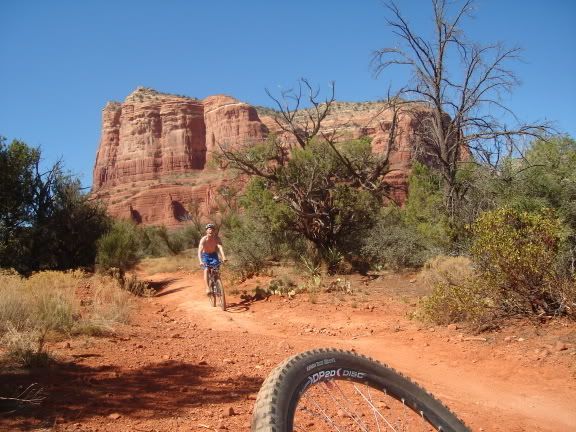 Mountain bike riding in Sedona is truly impressive to say the least! It has miles of spectacular single track with beautiful scenery and nature. You just can't go wrong when visiting the Sedona area.
The trails offer all of the qualities that a good biking area can possibly have. There are spectacular rides all over Sedona that will offer some of the most incredible scenery that anyone will ever experience while biking. Along the ride you will want to stop and pay attention to the views as you are presented with a full 360 degree view of Sedona.
Make sure you pack plenty of water and your camera. This way you will be able to remember how special this place really is.
Sedona offers easy trails and all the way to the extreme challenging as well as the down right insane trails. It has trails for all skill levels.
The sandstone makes for some excellent traction while maneuvering through some of the short and technical sections. You will find most of the trails are hard-packed and can be taken fast or slow if you prefer.
It will be hard for you to determine what is more exceptional, the scenery or the riding. The combination of both is what makes riding in this relatively untapped cycling area so special.
You can take a tour or rent a bike and set out on your own with a buddy but make sure you have the proper maps, water, equipment and a heart for adventure!
Click Here For Sedona Century Bike Tour
Click Here For Sedona Trails And Description
Click Here For Sedona MTB Adventures
Click Here For Mountain Bike Heaven
Click Here For Absolute Bikes
Click Here For 40% Off Rental Coupon
Here are a few videos I found to share. Enjoy!