Skiing & Snowboarding While In Sedona?
Skiing & snowboarding in the Desert? Could it be true? Many people wouldn't even think it snows in Arizona. But it does snow and some places gets lots of it!
Source:

Well, if you are heading to Sedona in the Winter you can jump in your car and in a 30-40 minute drive and you can hit the slopes.
Click Here For ADOT Safety Information
Click here for Snow Report and Ski Conditions
While in Sedona you will have your choice of several areas to ski or snowboard in and each offer their own challenges.
1.)Arizona Snow Bowl,it is located on the San Francisco Peaks North of Flagstaff and is the most popular resort in Arizona.It is in the Coconino National Forest.
2.) Next is the Elk Ridge located in Williams, Arizona
3.) Flagstaff Nordic Center Cross Country located in Flagstaff, Arizona
4.) Sunrise Park Resort located in McNary, Arizona ( In The White Mountains)
Click Here For ADOT Safety Information
Click here for Snow Report and Ski Conditions
SNOW BOWL
The Arizona Snowbowl is one of the best mountains in the Western US, and is the most popular in Arizona for sure! Arizona Snowbowl is 7 miles north of Flagstaff on Highway 180, 7 miles to ski slopes on Snowbowl Road.
It boasts an average snowfall of 260 inches. How's that for some desert snow? It has 5 lifts and can easily transport 5,000 per hour to the top of the 32 runs. The highest run is 11,500 feet. They have one run that is 2 miles long. The Snowbowl has 37% of its' runs that are rated for beginners.42% of the runs are rated Intermediate and 21% Advanced. There are also plenty of great snowboard opportunities on the 2300 feet of vertical drop.
The Snowbowl offers professional instructions for skiing and snowboarding. Lesson packages are available that include the rental equipment, lessons and the lift tickets. They have a program for children ages 4 to 7. It's called the SKIwee program and it is available for $70. The Kids ages 8 to 12 can sign up for the Ridge Runner programs offer skiing or snowboarding. Then for the kids 13 and over a program is available for $78.
Rental equipment prices for skis, poles and boots are:
9a-4p 12p-4p
Adult $25 $17
Juniors (12 and under) $15 $10
Snowboards and Boots $30 $22
Helmets $10 $ 8
Lift Passes
Adult Weekend $48 $40
Adult Weekday $48 $33
Adult Holiday $52 $44
Junior(8-12yrs) $26 $21
Junior Holiday $30 $25
Seniors(65-69) $26 $26
70& Older Free Free
7& Younger Free Free
Source:
Click here for More Snowbowl Information
Click Here For Wing Mountain Snow Play
SUNSET TERRAIN PARK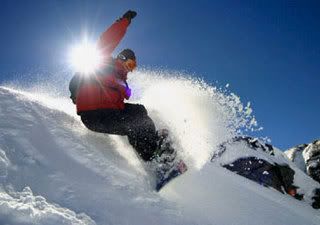 Sunset Terrain Park is located in the Snowbowl area on "Sunset Blvd". It is a State of the art park primarily serving the snowboarders. This park offers snowboarders at all skill levels lots of thrills. They feature fun boxes, rails, hits,spines and more. Each season they offer new features to keep things always challenging.
Click Here For Sunset Terrain Park Info
FLAGSTAFF NORDIC CENTER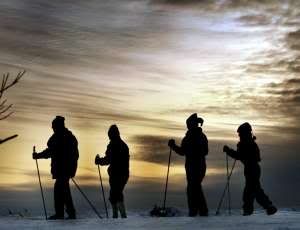 It is said that if you "ski the slopes of Northern Arizona and you'll ski the sky itself." When you ski at Flagstaff's Nordic Center you will be skiing in a winter wonderland. It features a gorgeous view of the ponderosa pine forests and the mountain peaks. On a clear day, you may see the Grand Canyon in the horizon, more than 60 miles away!
You will be able to enjoy cross country skiing and snowshoeing. The Center is located in the Coconino National Forest, seven miles north of Snowbowl Road on Highway 180. You can buy a day pass or season passes. They also offer lessons and equipment rental.
Click Here For Nordic Center Info
Click Here for Flagstaff Skiing Info
SUNRISE PARK
Sunrise Park is the largest resort and is it located in McNary in the Arizona White Mountains. It is 184 miles from Sedona and will take you about 3 .5 hrs to get there. It is 200 miles from Phoenix.
Sunrise Park Resort is owned and operated by the White Mountain Apache Tribe. Arizona's largest ski resort with 800 acres of skiing and snowboarding on three mountains that connect. Base elevation is 9,200 feet up to 11,000 feet. They get 250 -350 inches of fresh snow each year. Ski season is from the first week of December through the first weekend of April. Daytime skiing from 9am-4pm. Nighttime skiing offered from Jan.2 through Feb. 21 from 4:30-9pm.
They boast an impressive 8 ski lifts and they also have 13 miles of trails for the Cross Country enthusiast.The offer downhill and x-country skiing, snowboarding and snow mobiling. In the Summer you can enjoy fishing, hiking, camping, biking, boating and special events with chair lift, rides. Lodging is available at the park.
Click Here For Sunrise Park Info
ELKRIDGE SKI PARK
Williams is located about 30 miles west Of Flagstaff, Arizona and plays host to the Elk Ridge. Ski park. It gets an average snowfall of 150 inches. The park features 2 lifts getting up to 850 people per hour to the top of runs. The run are divided as 30% are beginner, intermediate claim 50%, and Advanced are 20% of the runs. Also they have some opportunities for snowboarders on the 600 feet of vertical drop.
Click Here For Elk Ridge Ski Park Info